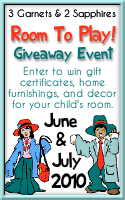 I almost missed hearing about this great event coming up, except
FancyGrlNancy at Arizona Mama blogged about it.
3 Garnets & 2 Sapphires is hosting a Room To Play Giveaway Event starting in June. It's looks like a great event and there are some ways to get some extra entries. So come on over and
check it out!