Rules: Accept the award, post it on your blog together with the name of the person who has granted the award, and his or her blog link. Pass the award to 15 other blogs that you've newly discovered. Remember to contact the bloggers to let them know they have been chosen for this award.


♥ Arizona Mama
♥ The Jacobsen Family
♥ My Silly Monkeys
♥ The Eco-Cheap Mom
♥ Mama Dweeb
♥
MisadventuresofMomof3
♥ Adventures in all Things Food
♥ Mama Days

♥ Monkey Tales
♥ Makin' It: A Quest for the Perfect Cloth Diaper
♥ ACU's, Stiletto Shoes, and Pretty Pink Tutus
♥ Life Happens During Naptime
♥ Happily Domestic
♥ Take Time to Smell the Rose

****************************************


And... I got the You're Going Places, Baby award from MisadventuresofMomof3! We met through Friday Follow and if you don't follow her, you should!!!



The Rules are:
~ Link back to the blogger who gave the award
~ Post where I would like to be in 10 yrs
~ Pass it along to 10 fellow bloggers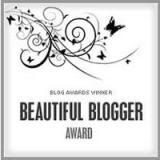 MisadventuresofMomof3 also gave me the Beautiful Blogger award! Three awards in one week! WOW!
The Rules are:
~ Thank the person who gave you the award and link to their blog.
~ Copy the award and paste it on your blog
~ List 7 interesting things about me.
~ Nominate either 7 or 15 people for this award